We Offer a wide variety of courses and educational oppurtunities
Ricki provides workshops for therapists, parents, and educators. She has also spoken in many schools including regular education as well as schools that provide special education. Please contact us to book a workshop that interests you. 
Courses available for Therapists including OTs, COTAs, PTs, SLPs, psychologists and social workers:
upcoming course! dec 20th!
Primitive Reflexes and Sensory Signals: Navigating the Neural Pathways to Success
Monday December 20, 2021 8:30 AM — 3:30 PM EST
Presenter: Ricki Dembitzer,  MS, OTR/L
This practical, one day webinar will provide a theoretical overview of sensory processing disorder from both a neurological perspective as well as understanding its presentation and treatment. Participants will explore each of the sensory systems and their impact on reflexes, function, movement and learning. Specific reflexes related to the sensory systems will be explored and demonstrated including how to test for some of them as well as specific integration techniques. Participants will leave with a clear understanding of the three subtypes of Sensory Processing Disorder and how they manifest themselves as well as treatment ideas and strategies to implement immediately. They will also gain a basic understanding of primitive reflexes, their role in development and function as well as their connection to Sensory Processing. This course is jam packed with practical techniques, come ready to learn and ready to take your expertise to the next level!
Register HERE.
Harnessing the Power of the Vagus Nerve; A Therapeutic Approach
March 11 @ 9:30 am – 12:00 pm
Presenter: Ricki Dembitzer,  MS, OTR/L
This course will provide an overview of the autonomic nervous system and its two branches the sympathetic and parasympathetic nervous systems and their corresponding roles. The Vagus nerve and its role in regulating our nervous systems will be discussed. The polyvagal theory will be described as well as the therapeutic interventions that help improve vagal tone. Additionally, other treatment ideas to help improve self-regulation using the power of the Vagus nerve will be emphasized. Several primitive reflexes related to the Vagus response will also be discussed. The course is geared towards therapists working with children, teens and adults looking for another way to improve their client's reactions to stress as well as the underlying nervous system reactions involved. It is geared towards the neurotypical client as well as those with any history of trauma or underlying condition or diagnosis.
Register HERE.
"Sensory Signals: Navigating the Neural Pathways to Success"
May 12 @ 8:45 am – 3:15 pm
Presenter: Ricki Dembitzer MS OTR/L
Register and find more information HERE.
"It makes SENSE to take Action" Improving Self Regulation and Attention span with Direct care and Telehealth Treatment
Available Live or through Webinar
Course Length: 2.5-3 hours
This course focuses on some of the main senses that affect our ability to self regulate and attend at home and in school. The impact of sensory sensitivities as well as the role of primitive reflexes is discussed. Therapists will learn theory as well as lots of practical tips to add to his/her toolbox. 
(presented at Yeled Vyalda of Brooklyn NY May 2020)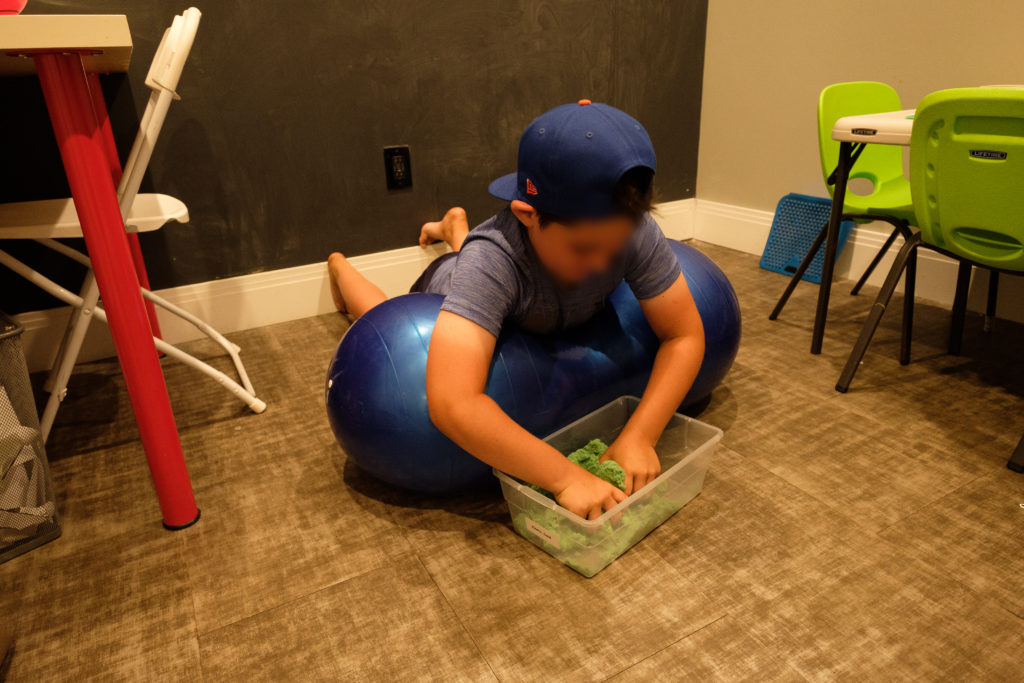 "Primitive Reflexes and Sensory Circuits; Exploring the connections for optimal functioning"
Available Live or through Webinar
Course Length: 6 hours
This course takes a closer and more in depth look at Sensory Processing Disorder and its main subtypes along with theory, symptoms and treatment. Primitive Reflexes will be discussed and demonstrated at length as well as the exploring the sensory and reflex connection and their impact upon development. The Polyvagal theory and Autonomic nervous system is also presented and explained in depth.
Lots of practical treatment ideas to walk away with and implement into your practice immediately.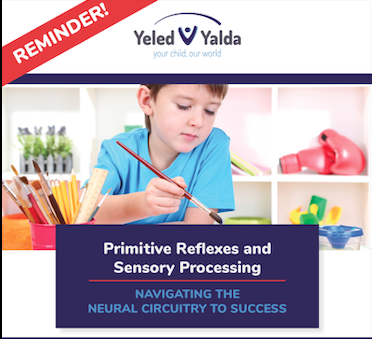 Courses Available for Educators and schools including social workers/psychologists:
"Sensory Processing and Attention span in the classrooms setting"
"Sensory Processing and Attention span in the classrooms setting"
"Executive functions, trying to understand our students better"
"Sensory Processing and Self Regulation techniques in schools"
"What are Executive Functions and how can I help my students Thrive in school and at home"
"Fine motor skills in the classroom including developmental readiness"
"Handwriting without tears program "
"Sensory Processing and attention span with a behavioral perspective"
(All of the above courses can also be combined and mixed and matched for a customized experience for you specific needs in your school or classroom setting)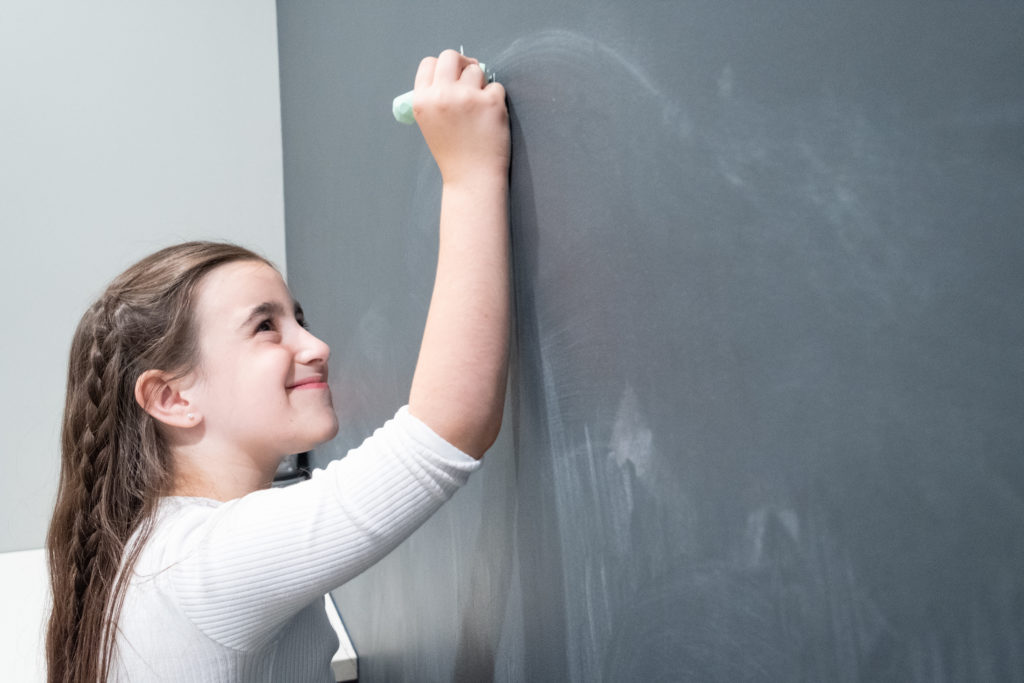 Courses available for Parents:
"Lets Come to Our Senses"
Available Live or through Webinar
Course Length: 4 Part 1 hour series
This course explains all of the 8 senses in depth and explains how Sensory sensitivities can affect our children in the home setting. Lots of practical tips and suggestions in addition to theory is explained and there is a question and answer period as well. This helps parents to understand their children's sensory needs better and improves bonding and understanding amongst family members. This class is more in depth and also addresses the Interoceptive sense as well as picky eaters and toilet training issues.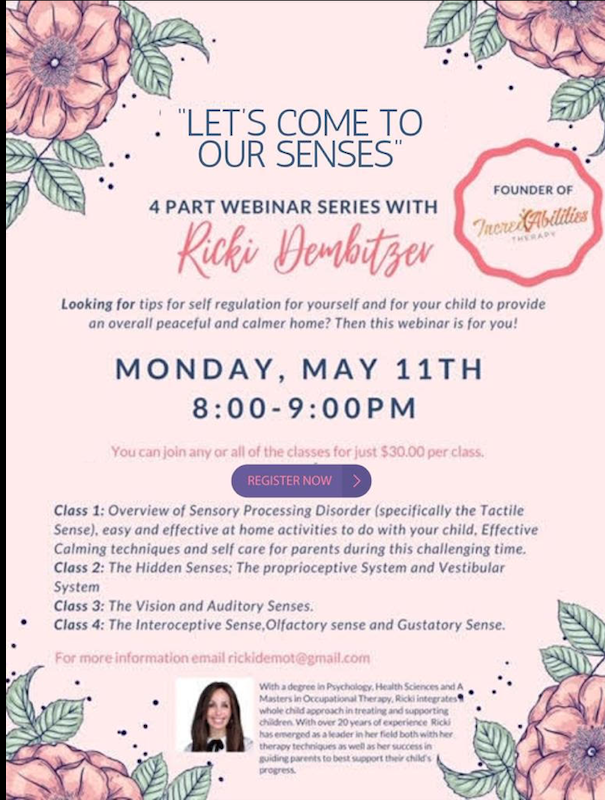 "Gaining some SENSEabilities"
Available through live or Webinar
Course Length: Little over 1 hour with Q and A
This course gives an overall perspective of Sensory Processing and Sensory Integration with lots of ideas and tips and provides an overall description and theory about SPD to  help parents better understand and help their children.